Huge Easter eggs have been dropped in Taylor Swift's Music Video 'Me'!
So the video is finally here! On the 26th April, Taylor dropped her latest music video 'Me'. A collaboration with the much loved Brendan Urie from Pop Punk Band Panic at the Disco.

 
This high energy, colourful display of all things rainbows, unicorns and cute fluffiness is definitely a step away from her previous dark and hard hitting Reputation tour that sold out all over the world.

 
It does however have plenty of easter eggs planted throughout the video for fans to spot and we know that this is certainly something Taylor likes to do in her music videos. Let's see how many we have picked out!
At the beginning of the video we see a snake explode into a kaleidoscope of butterflies. This could suggest that our Taylor has transformed from Reputation Taylor and is now beaming with positivity and happiness.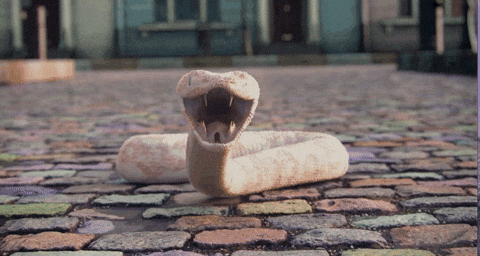 Our first scene with Taylor opens on her and Brendan arguing in french. He calls her dramatic to which she storms out. Could this be linking to all the drama she had in the past?
Taylor Can Come to the Phone

 
When Taylor walks into a room of clouds, she taps the phone. Now unlike old Taylor who 'Cant come to the phone right now because she's dead' - looks like this one can make the time !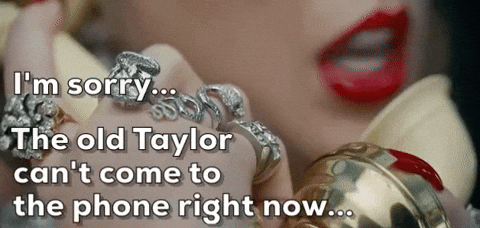 There is certainly a repetition of snakes in this video but for different reasons than in 'Look what you made me do'. In one scene we witness a cloud snake swallow Taylor whole but she walks away unscathed which could propose that she can't be touched by negativity and that she can just 'shake it off' ?

 

- I had to!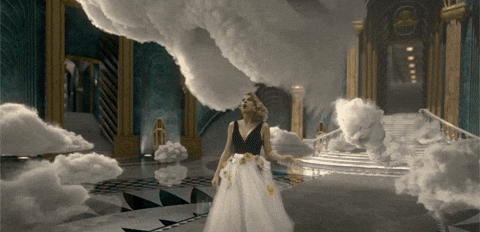 Now in one scene we see her sat on top of a unicorn shaped building with the neon sign 'Lover' in the background. Could this potentially be a track title on the new album? Let us know your thoughts!
When Brendan Urie gets down on one knee in the video and proposes to Taylor with a bouquet and a ring she declines, but when he pulls out a cute little kitty she accepts.

 
Now we know, from the beginning of the video and also her social media account that Taylor is a cat momma of two already. But recently she posted a picture of her and a cat that looks very much like the cat from the video with the caption 'And then there were three'.

 
Taylor fans have come to believe that this could perhaps mean that Taylor is in fact engaged to current Bo Joe Alwyn.

 
Not to mention her HUGE hint in recent instagram story, where she states ' Oh and there a secret in the video I've been keeping for months - Lets see who can guess it' Have we guessed right Taylor?

 
Let us know what you think of the video. Did you spot any more easter eggs? Drop a comment in the box below or comment of our facebook post. Enjoy the video !